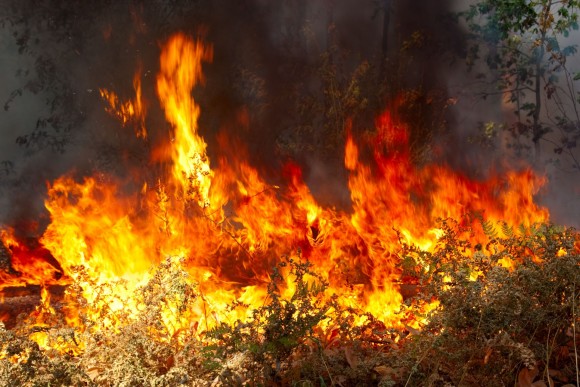 California Insurance Commissioner Ricardo Lara on Thursday issued a mandatory one-year moratorium on insurance companies non-renewing policyholders, a move he says will help at least 800,000 homes in wildfire disaster areas in Northern and Southern California.
The commissioner's action is the result of Senate Bill 824, which he authored last year while he was a state Senator, to give temporary relief from non-renewals to residents living near a declared wildfire disaster.
This is the first time the California Department of Insurance has invoked the new law, which took effect in January.
Lara also called on insurance companies to voluntarily cease all non-renewals related to wildfire risk statewide until Dec. 5, 2020, in the wake of Gov. Gavin Newsom's declaration of statewide emergency due to fires and extreme weather conditions.
A statewide moratorium would provide all California homeowners, renters, and businesses peace of mind, and allow time for stakeholders to come together to work on lasting solutions, help reduce wildfire risk, and stabilize the insurance market, according to Lara.
"I am calling on insurance companies to push the pause button on issuing non-renewals for one year to give breathing room to communities and homeowners while they adapt and mitigate risks, give the Legislature time to work on additional lasting solutions, and allow California's insurance market to stabilize," Lara said in a statement.
Lara announced the action during a press conference at a home in Oakland alongside local leaders from affected areas and consumer advocates, following months of meetings across the state with county officials, community leaders, and more than 2,000 homeowners who have been non-renewed and struggled to find new coverage.
The mandatory one-year moratorium covers 800,000 homes in ZIP codes adjacent to recent wildfire disasters under SB 824, also known as the Wildfire Safety and Recovery Act.
While existing law prevents non-renewals for those who suffer a total loss, the new law established protection for those living adjacent to a declared wildfire emergency who did not suffer a total loss.
Lara said his action comes amid growing evidence that homeowner insurance has becoming more difficult for Californians to obtain from traditional markets, forcing them into more expensive, less comprehensive options like the FAIR Plan, the state's property insurer of last resort.
In August, the Department of Insurance released data revealing insurance companies are dropping an increasing number of residents in areas with high wildfire risk. The number of non-renewals rose by more than 10% last year in seven counties from San Diego to Sierra, according to the CDI.
The number of consumers covered by the FAIR Plan has risen in areas with high wildfire risk. According to the U.S. Forest Service, more than 3.6 million California households are located in the wildland urban interface where wildfires are most likely to occur.
"I'm hearing the same story again and again," Lara said during the press conference to announce the moratorium. "People have been dropped by their insurance companies after decades of premium payments and coverage."
Lara had several wildfire victims with him during the press conference, and he recited their stories of non-renewal experiences and rising rates due to increase wildfire threats.
One consumer on hand was quoted insurance premiums of more than $12,000 a year, while a firefighter who has a hydrant on his property, and "plenty of" cleared space, was recently non-renewed by his carrier and the rates he was quoted elsewhere were extremely high, Lara said.
"The quotes he would have received would have tripled his insurance costs," Lara said of the firefighter.
Lara last month decreed that no later than June 1, 2020, the FAIR Plan will expand its coverage to offer a full homeowners policy in addition to its current limited fire-only policy.
By April 1, 2020, plans are for the FAIR Plan to increase the dwelling fire combined policy limit from $1.5 million to $3 million. By February 1, 2020, the FAIR Plan will offer a monthly payment plan without fees and allow people to pay by credit card or electronic funds transfer without fees, according to CDI.
"We want the FAIR plan to be a robust policy," Lara said during Thursday's press conference. "We know the FAIR plan no longer meets the current needs of fair plan."
The insurance industry, including FAIR Plan officials, have not fully embraced Lara's plan. FAIR Plan officials have warned mandating the plan to offer HO-3 coverage, in addition to its current dwelling fire-only coverage, could have unintended consequences and ultimately hurt consumers.
FAIR Plan officials were contacted for comment for this article but were not immediately available.
A spokesperson for the American Property Casualty Insurance Association, the largest trade group representing insurers, said the answer to the state's wildfire crisis is better preparedness, not measures that could jeopardize the solvency of insurers.
"Insurers are already following all existing laws related to non-renewal including recent legislation, SB 824, which prevents non-renewals in adjacent zip codes following a state declared disaster," Jeremy Merz, vice president for state affairs for APCIA, said in an emailed statement. Limiting the tools insurers use to manage their risk and solvency is not the answer. The solutions to reducing California's wildfire risks are more mitigation and preparedness."
Most homeowners in the state can still get insurance in the admitted market.
The most recent figures from the California Department of Insurance as of 2018 show that 1.4% of state's homeowners market is going to surplus lines, and 1% is going to the FAIR plan. The remainder is in the admitted market.
However, CDI figures over four years show the number of rate increases filed rising from 25 in 2015 to 69 in 2018.