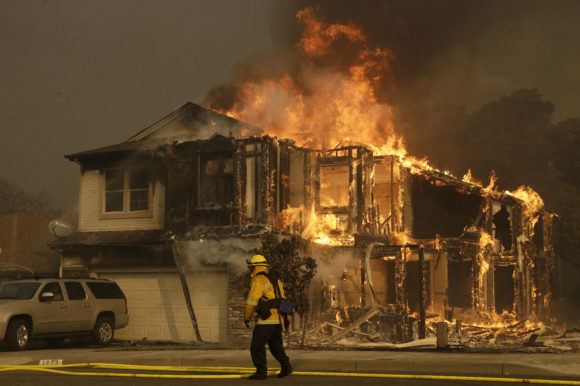 A newly proposed bill would clarify under California law the concept of "hardened homes" that are safer or more resistant to wildfires and then require admitted carriers to cover those homes.
California's insurance commissioner and several lawmakers on Tuesday introduced a bill they said is designed to give insurance companies a greater role in protecting communities from devastating wildfires.
Assembly Bill 2367, which is being called Renew California, would require admitted insurance companies to write or renew policies for existing homes in communities that meet a new statewide standard for fire-hardening.
The bill also would authorize the insurance commissioner to require insurance companies to offer financial incentives for homeowners to do the work to make their homes more fire-safe.
California Insurance Commissioner Ricardo Lara, Assemblywoman Lorena Gonzalez, D-San Diego, Assemblywoman Monique Limón, D-Santa Barbara, and United Policyholders joined first responders and homeowners on Tuesday to announce legislation that addresses the growing number of insurance non-renewals due to wildfire risk across California.
AB 2367 focuses on insurance companies that have been writing fewer homeowner policies and sharply increasing non-renewals of homes with wildfire risk across the state—a response to several years of devastating wildfires, according to backers of the bill.
"Communities form Sierra to San Diego County are losing their insurance in numbers that we have not ever seen before," Gonzalez said.
In her district in San Diego County, Gonzalez said she's seen over a 10% increase in non-renewals.
"Millions of Californians live in areas considered at risk for wildfires," she added.
Lack of insurance has sparked a wildfire "domino effect" that disrupts real estate markets and threatens the property tax base that local communities rely on to fund emergency services and more, according to the California Department of Insurance.
Data released by the CDI in August 2019 showed that insurance is becoming harder to find for communities across the state, with eight counties seeing a greater than 10% increase in non-renewals in 2018 alone.
Lara said he has heard from "thousands of homeowners" and has "heard the same stories."
"'Are we going to have insurance tomorrow,' is a theme we hear over and over again," Lara said.
Lara explained that the law will clarify standards for a harden home, and then admitted carriers will be required to cover those homes.
"Insurance companies in underwriting guidelines will be required to write homeowners insurance for those who meet these standards," Lara said.
The American Property Casualty Insurance Association, the largest trade group representing insurers, and the Personal Insurance Federation of California, issued the following statement:
"We look forward to working together on solutions that best address homeowners' concerns about non-renewals, but we need to avoid legislation that limits consumers' choices or results in unintended consequences that harm Californians. While a relatively low percentage of Californians face non-renewal in high-risk areas, it is little comfort to those who can't find insurance."
As long-term solutions are worked on, a balance must be struck that ensures the availability of coverage and safeguards insurers' ability to pay homeowners' claims in the face of large-scale disasters, the statement adds.
The statement goes on to note that claims payments from two consecutive years of massive wildfires have left California homeowners insurers with an underwriting loss of over $10 billion.
"With climate change creating new pressures on homeowners' insurance, any new laws must reflect this 'new normal' in order to protect access to insurance while also providing stability to insurers so they can meet the needs of homeowners devastated by wildfires," the statement reads.
The Surplus Line Association of California has also been reached out to for comment.
Lara and the department have taken other measures to battle what they see is a growing problem of lack of insurance availability.
The CDI has issued a revised plan of operation for the California FAIR Plan Association, which furthers Lara's Nov. 14 order revoking portions of the FAIR Plan's current plan of operation and ordering the insurer of last resort to make changes to the plan.
The FAIR Plan has filed a petition for a writ of mandate seeking to have a court annul, vacate, or withdraw an order issued last month by the Lara calling for the Fair Plan to begin offering a comprehensive homeowners (HO-3) coverage, in addition to its current dwelling fire-only coverage, by June 1.
Lara in December issued a mandatory one-year moratorium on insurance companies non-renewing policyholders, a move he says will help at least 800,000 homes in wildfire disaster areas in Northern and Southern California.
Under AB 2367, the Commissioner, the California Governor's Office of Emergency Services and the State Fire Marshal will develop statewide standards for home and community hardening, in consultation with the California Department of Forestry and Fire Prevention and the Governor's Office of Planning and Research.
Hardened homes in communities that meet this standard would receive a guaranteed offer or renewal of insurance, contributing to community resilience while ending the cycle of lost home sales, falling prices, and declining property values negatively impacting communities across the state, those supporting the bill say.
This law would apply only to existing homes, whose owners are facing an abrupt change in insurance availability related to wildfire risk, according those pushing the bill.
AB 2367 already has support from the California Professional Firefighters, California State Firefighters' Association, Consumer Attorneys of California and the Consumer Federation of California