Original article can be found HERE.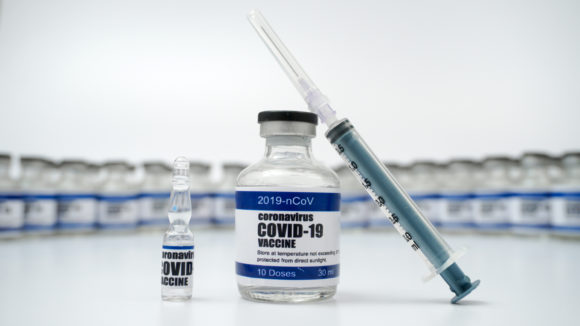 The nation's workplace safety agency will officially publish tomorrow emergency guidelines for companies that must implement President Biden's mandatory vaccine policy for employees.
The policy covers employers with 100 or more employees and requires them to enforce a mandatory COVID-19 vaccination policy, or adopt a policy requiring employees to choose to either be vaccinated or undergo regular COVID-19 testing and wear a face covering at work.
The deadline for having a mandate and testing plan in place is Jan. 4, which places it after the busiest weeks of the holiday season.
The Occupational Safety and Health Administration said its emergency temporary standard will protect more than 84 million workers from the spread of the coronavirus on the job. A separate rule requiring federal contractors to have a similar vaccine/testing policy will cover even more workers.
The standard also requires employers to provide paid time to workers to get vaccinated and to allow for paid leave to recover from any side effects.
"While vaccination remains the most effective and efficient defense against COVID-19, this emergency temporary standard will protect all workers, including those who remain unvaccinated, by requiring regular testing and the use of face coverings by unvaccinated workers to prevent the spread of the virus," said Deputy Assistant Secretary of Labor for Occupational Safety and Health Jim Frederick. "As part of OSHA's mission to protect the safety and health of workers, this rule will provide a roadmap to help businesses keep their workers safe."
OSHA estimates that this rule will save thousands of lives and prevent more than 250,000 hospitalizations due to workplace exposure to COVID-19.
The emergency standard does not require employers to pay for testing or for masks.
U.S. Labor Secretary Marty Walsh said "many businesses understand the benefits of having their workers vaccinated against COVID-19, and we expect many will be pleased to see this OSHA rule go into effect."
While many businesses have been awaiting the OSHA guidance, a number of large employers including Walt Disney, Procter & Gamble, 3M and several airlines along with state governments have already imposed vaccination or regular testing requirements. In some cases, unions have supported vaccine requirements.
According to The Associated Press, 18 states and the District of Columbia have vaccine mandates for their workers, and 21 states plus D.C. have mandates for health care workers.
But across the country, some unions and workers are resisting vaccine mandates and some state Republican officials are vowing to fight them in court. Arizona Attorney General Mark Brnovich (R) has already filed a lawsuit.
As part of the process of developing the standard, The Biden Administration held meetings with employers and business groups including the Retail Industry Leaders Association, the Business Roundtable and the National Association of Manufacturers.
The OSHA standard will cover two-thirds of the nation's private-sector workforce. In the 26 states and two territories with OSHA State Plans, it will also cover public sector workers employed by state and local governments, including educators and school staff.