Original article can be found HERE!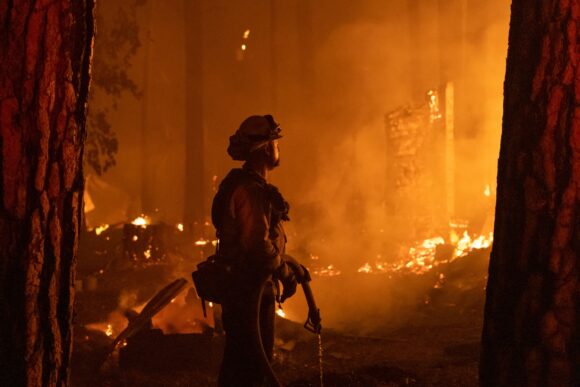 Several massive blazes have plagued Northern California this year, and now it could be Southern California's turn.
The Dixie and Caldor fires continue to do damage in Northern California, putting the state at more than 2.2 million acres burned this year, according to CalFire. The Caldor Fire is at 219,267 acres and 68% contained, and the Dixie fire has burned 960,470 acres and is 75% contained.
The state's wildfire season has been bad enough that California Insurance Commissioner Ricardo Lara issued notices to insurers alerting them to cease non-renewals and cancellations of insurance coverage for communities with wildfire emergencies.
It has been a smokey, and destructive summer for the entire Western U.S.
Southern California has been comparatively quiet, but now it's getting close to the time of year where classic offshore wind evens create what's known as "Santa Ana" winds, which become more common throughout October and well into November.
Ground soil moistures throughout the state have been reported to be at or near record low levels, vegetation has dried out in many areas into tinder box fuel, and the severe drought was made an even greater peril by unusually high summer temperatures.
The combination of effects got AccuWeather Chief Meteorologist Jonathan Porter concerned enough to start making rounds of calls to the media this week to get out the message that fire season is here in the Southland – and it could be bad.
"We are very concerned about what's ahead in the coming months," Porter told Insurance Journal during a call on Tuesday. "The risk only goes up from here in the coming months."
He explained that with the way things are, "it won't take much" for the winds to start fires, or take small wildfires and make them massive ones, which prompted his round of calls to members of the media with only a few weeks left until October is here.
"We don't want people letting their guard down here in Southern California, because the risk is here in coming weeks," he added.
An example of how bad it can get under certain conditions came at one point in mid-August, when there were more than 10,000 firefighters battling unprecedented blazes in California, and that large force wasn't enough.
It's been a particularly severe wildfire season throughout the Western U.S.
AccuWeather expects the total burned acreage for the region to be at 8.9 million by year's end. That wouldn't match last year's record 10.2 million acres burned in the West, but it's at 115% of the five-year average and 130% of the 10-year average.
Considering 5.6 million acres have burned so far across the region, there's a ways to go – much of that burnt acreage is expected to occur outside the Pacific Northwest, which has entered its traditional wet season.
That means Southern California is expected to a large share of the total burnt acreage forecast in the next few months.
"Our current prediction would be a top-10 year overall in terms of the number of acres burned," Porter said.